The purpose of QuakeNet is to exercise 2 meter simplex operation around San Diego County in preparation for emergencies or natural disasters. QuakeNet is intended to provide the opportunity for licensed Amateur Radio operators to use their 2M radio equipment for 2M Repeater operation and 2M Simplex operation in preparation for a disaster or emergency. The desired benefits to participants are to (1) know their equipment, (2) learn the limitations of their equipment and location - output power, antenna and terrain, and (3) become knowledgeable of 2M capability in San Diego County.
Primary objective is to exercise 2M simplex.
Secondary objective is to get the most participation possible from all amateur radio operators
Tertiary objective is keep the operation simple so as to encourage everyone to participate - old Hams, New Hams and NBOAs (Never Been On the Air)
QuakeNet 2 Series 2010
| | | | | |
| --- | --- | --- | --- | --- |
| Event | Date and Time of Original Event | M | Net # | Anniversary in 2010 |
| NORTHRIDGE EARTHQUAKE | TIME: January 17, 1994 / 4:30:55 am PST | 6.7 | 2.1 | Sunday, January 17, 2010 |
| SAN FERNANDO EARTHQUAKE | TIME: February 9, 1971 / 6:01 am PST | 7.1 | | Tuesday, February 09, 2010 |
| THE GREAT SAN FRANSISCO EARTHQUAKE 1906 | TIME: April 18, 1906/ 5:12 am PST | 6.6 | 2.2 | Sunday, April 18, 2010 |
| ARRL Field Day | | | 2.25 | Saturday June 26-27, 2010 |
| KERN COUNTY EARTHQUAKE | TIME: July 21, 1952 / 4:52 am, PDT | 7.5 | 2.3 | Wednesday, July 21, 2010 |
| LOMA PRIETA EARTHQUAKE | TIME: October 17, 1989 / 5:04 pm PST | 7.8 | 2.4 | Sunday, October 17, 2010 |
| Great California ShakeOut 2010 | TIME: October 17, 2009 10:00:00 AM | | 2.5 | Thursday, October 21, 2010 10:00 Am |
If you would like to be included in Quakenet 2.2 on April 18, 2010, please contact me at QuakeNet@Live.com. Please provide the following information
Call Sign
Handle (F & L Name)
Location during the Net (general area, e.g., chula Vista, or East Lake, or Elfin Forest, etc.)
Location by Lat, Long if you have it
Radio Type you will use on the Net (Base, Mobile, or HT)
Radio output power(in watts)
Antenna Type (Base, mobile, Mag, HT)
Primary affiliation (club, RACES, ARES, Red Cross, etc.)
If you would like to volunteer as a Relay Control station operator, please provide the same information and indicate your desire to volunteer.
QuakeNet Participation - Process
1. Get on the roster by sending your information (see above) to QuakeNet@Live.com
2. Get your radio equipment ready for 2M duplex (repeater) operation and 2M simplex. Contact your Amateur Radio Club o local Ham Radio proprietor for assistance with Getting On The Air (GOTA). Contact KI6UPY for information about San Diego sources for assistance and training. KI6UPY@Live.com
3. Participate in the next QuakeNet drill. See schedule.


Net starts at set time with Net Control's Preamble,
Continues with roll call of all members signed up for QuakeNet.
Next comes relay operations. Frequencies for relay operators will be announced before start.
Net ends after all relays and Net Control have collected all check-ins.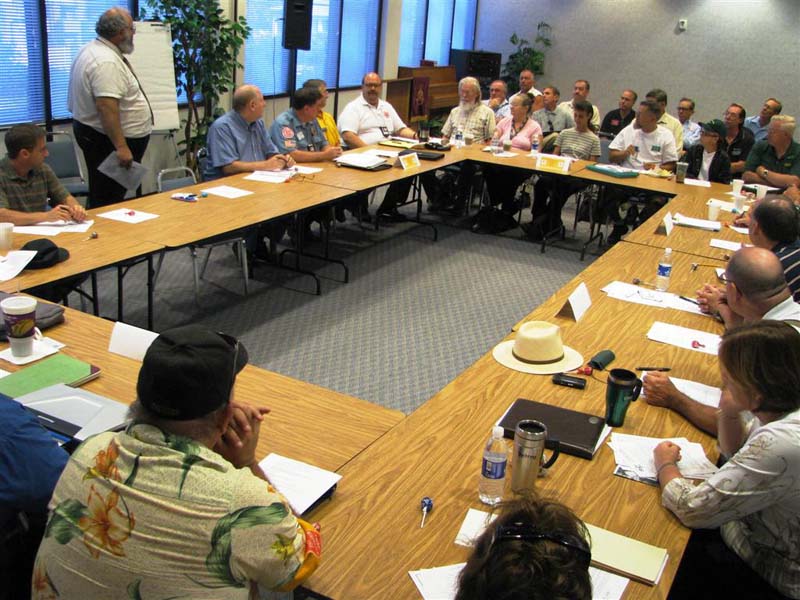 History
QuakeNet began with an idea that Joseph, KI6TTF, had while attending a Communications Summit in September of 2009. The summit was a meeting held at the San Diego Salvation Army Headquarters building. In attendance were all of the local emergency response organizations and California OES as well as some fire districts. See the list below.
The summit covered the spectrum of radio operations in an emergency.

One topic of discussion during the meeting was the unanimous understanding of the need to exercise 2 meter simples as the most viable lowest common denominator during an emergency or disaster.

Another topic was the "never been on the air" (NBOA) licensed amateur radio operators in the San Diego area. The estimate provided was that of the approximately 8,800 licensed amateur radio operators in San Diego, about 25% or probably 2,000 of them have never gotten on the air.

A flyer was distributed for the Great California ShakeOut, a statewide earthquake preparation and emergency exercise drill to be conducted in the month following the Communications Summit.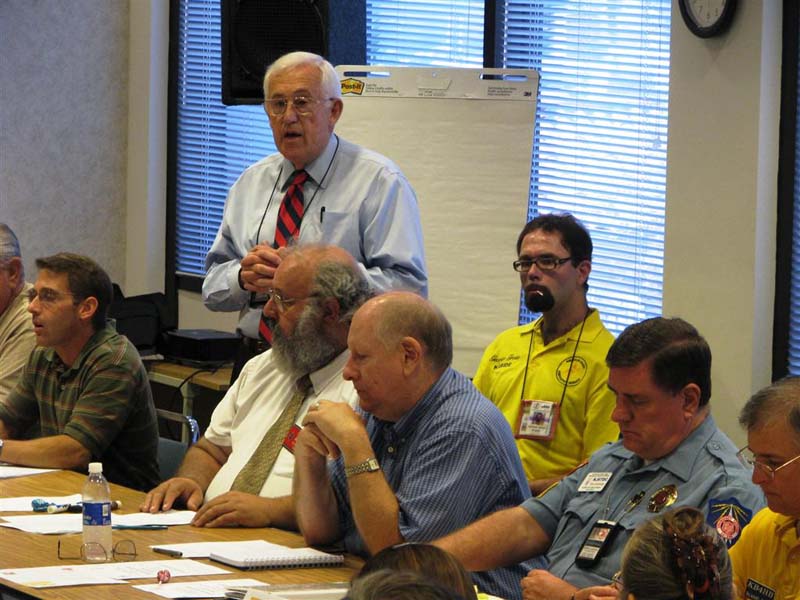 It was there and then that the idea for QuakeNet synthesized and became a quest. The idea was presented six times before it finally got a nod of approval from the El Cajon Amateur Radio Club. The idea became reality with the assistance of Paul Rios K6QLS, President of the El Cajon Amateur radio Club and Steve Weed KO4QT, the Vice President of the El Cajon amateur Radio Club.

The San Diego Repeater Association, SANDRA, allowed QuakeNet the use of the Mt. Otay repeater on 146.640. Ham Radio Outlet allowed us to direct NBOAs to attend the Ham Radio Appreciation Day at the San Diego store. There was the El Cajon Amateur Radio Club assisted QuakeNet participants with preparing their radios for use during the upcoming QuakeNet. HRO further assisted everyone by selling antennas and radios to those in need.

QuakeNet took place in conjunction with the Great California ShakeOut earthquake exercise on Thursday, October 17, 2009, at 1015 hrs. Quake Net began at 0900 hrs for a roll call on 2M duplex (146.640). At 1000 hrs the net switched to 2M simplex for a repeat of the roll call and a simple message exercise. At 1100 hrs the QuakeNet returned to 2M duplex to again conduct roll call and get status reports of the simplex test.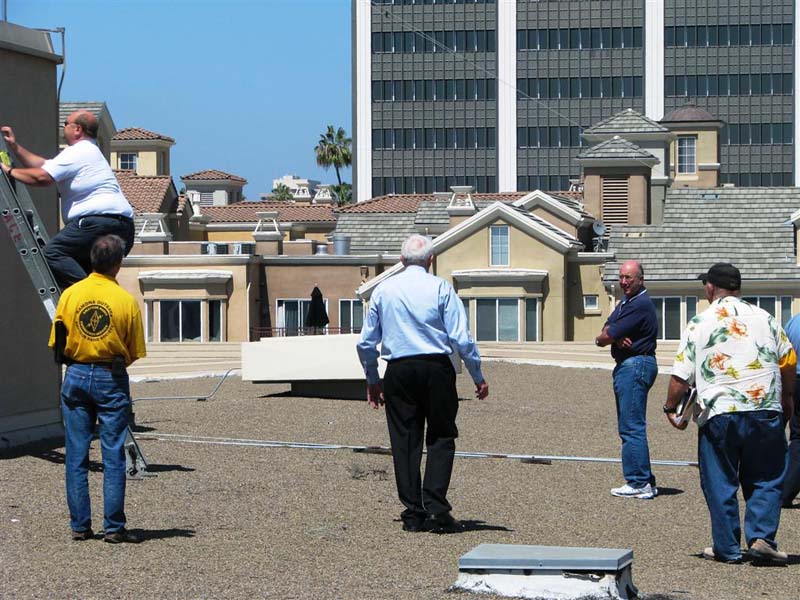 QuakeNet has now become a series of events. The original QuakeNet is now referred to as QuakeNet 1 and the for 2010 it is the QuakeNet 2.0 series, a series of five QuakeNets held on the anniversary of the four largest earthquakes in California, Field Day 2010 and the Great Californai ShakeOut 2010.

Statistics from the Quake Net

101 on the Roster
41 Adds during the Net
0900 hrs 2M repeater
55 Roster Check-ins
35 Add Check-ins
1000 hrs2M Simplex
47 Roster Check-ins
13 Add Check-ins
6 Relayed Check-ins
1100 hrs 2M repeater
41 Roster check-ins
1 Add Check-In

List of Organizations and Groups represented at the Communications Summit, September 12, 2009
· SATERN
· RACES
· ARES
· SOBARS
· Coronado Emergency Radio Operators
· CERT San Diego
· TSA CNL
· ARRL
· ROARS
· Cal EMA
· MARA
· San Diego Repeater Association
· CA OES
· SoCal Tribal Chairmans' Assoc/Rincon
· CERT Mt. Empire
· CERT San Diego Rural
· SANDARC Inc.
· El Cajon ARC
· CERT San Marcos
· CERT Carlsbad
· TSA Emergency Disaster Services
· San Diego Sheriff Wireless Svcs
· American Red Cross
· San Diego Yacht Club
· CERT Mt. Empire
· Campo Fire